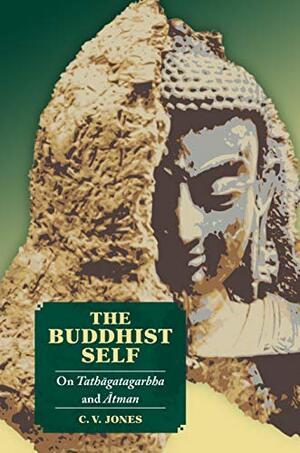 BERKELEY — The Center for Buddhist Studies at the University of California, Berkeley, is pleased to announce that the winner of the 2021 Toshihide Numata Book Award in Buddhism is Dr. Christopher V. Jones (Affiliated Lecturer and Research Associate at the Faculty of Divinity, and Bye-Fellow of Selwyn College, University of Cambridge), for his book The Buddhist Self: On Tathāgatagarbha and Ātman (University of Hawaii Press, 2020).
The Toshihide Numata Book Award in Buddhism is presented on an annual basis to an outstanding book in the area of Buddhist studies. The selection is made by an external committee that is appointed annually. The Buddhist Self earned strong praise from the members of this year's committee, who called it a "remarkable achievement," "a tour-de-force," and a "masterpiece." The reviewers noted the author's sophisticated mastery of sources in Sanskrit, Chinese, and Tibetan, as well as his command of the vast body of Japanese scholarship on the topic. Jones was also commended for the manner in which he weaves his diverse and challenging sources into a single coherent and illuminating narrative.
Dr. Jones will be presented with the Toshihide Numata Book Award on Friday November 5, 2020, via a webinar. The award presentation will begin at 2 pm Pacific time. Following the presentation, Dr. Jones will deliver a keynote lecture, titled "What makes a Buddha-nature text? Reflections on the idea of a 'tathāgatagarbha corpus'." The lecture will be followed by a panel with three presentations by specialists in the field:
Paul Harrison (Stanford University): "The Buddhist Self and the Buddhist Studies Self."
Hiromi Habata (International College for Postgraduate Buddhist Studies): "Sattva and sattvadhātu: The Essential Element of Existence in the World."
Michael Zimmermann (Universität Hamburg): "From the Lotus Sutra to the Roots of Engaged Buddhism in the Bodhisattvabhūmi: Why Tathāgatagarbha Is Indispensable."
We will post another announcement, closer to the time of event, inviting anyone interested to register for the symposium webinar.
More information about the Toshihide Numata Book Award in Buddhism, including names of past recipients of the Award, can be found here:
https://buddhiststudies.berkeley.edu/buddhist-studies/toshihide-numata-book-award-cbs