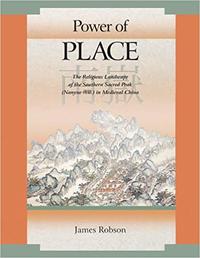 BERKELEY - The Center for Buddhist Studies at the University of California, Berkeley, is pleased to announce that the 2010 Toshihide Numata Book Award has been awarded to Professor James Robson of Harvard University for his 2009 book Power of Place: The Religious Landscape of the Southern Sacred Peak (Nanyue) in Medieval China (Harvard University Asia Center).
The Toshihide Numata Book Award in Buddhism (or "Toshi" Award) is awarded on an annual basis to an outstanding book in the area of Buddhist studies. Professor Robson's work was selected by members of an outside committee who lauded Robson for his mastery of a wide range of historical materials, and for his broad contribution to the fields of religious studies and Chinese studies as well as Buddhist studies.
Professor Robson will be presented with the Toshihide Numata Book Award on the afternoon of December 3, 2010, at UC Berkeley's Alumni House. The presentation will be followed by a public lecture by the Award recipient, and a panel on the theme "Ritual Place" that will include presentations by Professors Phyllis Granoff and Koichi Shinohara of Yale University, and Alexander von Rospatt and Jacob Dalton of UC Berkeley. More details will be available shortly on the Center for Buddhist Studies website.
Professor Robson teaches in the Department of East Asian Languages and Civilizations at Harvard University and specializes in the history of Medieval Chinese Buddhism and Daoism. His areas of interest include sacred geography, local religious history, talismans, religious art, and the historical development of Chan/Zen Buddhism. In addition to his book Power of Place, he is co-editor of Buddhist Monasticism in East Asia: Places of Practice (London: Routledge, 2010). He is currently engaged in a long-term collaborative research project with the École Française d'Extrême-Orient studying a large collection of religious statuary from Hunan province.